10 x Standard Brass Ferrules (16mm-20.5mm) for Stickmaking Walking Stick Making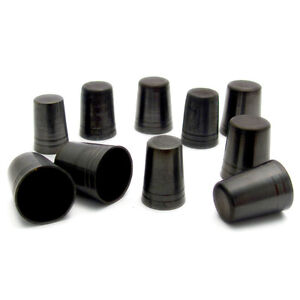 ---
Assortment of 10 standard brass ferrules in 5 different sizes
This listing is for our small diameter assortment,with sizes from 16mm to 20.5mm
16mm x 217.5mm x 218.5mm x 219.5mm x 220.5mm x 2
These sizes are external diameters at the open end
Length - typically 21mm - 22mm(length can vary slightly depending on diameter)
Lots of other sizes and different types of ferrule in our  shop
These are supplied in an almost black antiqued finish.  You can leave them for grasses and leaves to slowly wear off the antiquing;  or you could polish them to a bright brass finish with any metal polish - your choice.To fit the ferrule to your stick, choose a size slightly smaller than the bottom diameter of the stick.Trim away wood in a tapered shape with Stanley knife, file or rasp until it looks somewhere nearthe right size, then slip the ferrule onto the tapered end.  You'll see that the ferrule leaves a black mark on the wood at any high point, thus showing you exactly where you need to trim it  a bit more.To fix it to the stick, there are 2 main methods.  The traditional way is to fit it in position, then use a hammer and bradawl or strong nail to make three indentations around near the top of the ferrule. You can belt it quite hard, because the indentations must go into the wood far enough to hold it firmly in place.Alternatively, drill a couple of small holes near the lip of the ferrule, and then fasten itto the stick with small nails.With either method, it can't hurt to use a good dollop of epoxy resin adhesive inside the ferrule,for a bit of added security.
Packed with care and shipped fast from our own warehouse in Nottingham, England
Only - £6.50 plus post
Any additional items ordered from our shop and paid at the same time will be POST FREE - 
You pay only one lot of postage!
Just click 'Add to Basket' while you're still shopping.
When all the items you require are in your basket, click 'Checkout' and the postage discount will be given automatically.
Packed with care and shipped fast from our own warehouse in Nottingham, England
PLUS - lots more to see in our Shop: The Stickmaking Shop