Beatrix Potter 50P Coins 2016/17/18 Full Sets Albums Decals Peter Rabbit Jemima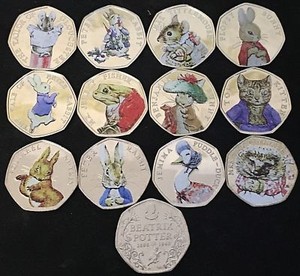 ---
Here for sale are 50p coins from the 2016-17-18 Beatrix Potter collection. These are genuine UK coins each taken from sealed Royal Mint bags that came direct from the Royal mint themselves.
Beatrix Potter Full Sets Of Coins 2016-17-18 + Decals
Full Album + Coins
Please Choose One Of The Option's In The Drop Down Menu
None of my coins have ever been touched by bare hands and will be carefully packaged to preserve them further. The intention is to make sure that the product you receive is in as good condition as possible for a coin of this type.
Anniversary Peter Rabbit Mrs Tiggy-Winkle Jemima Puddle Duck Squirrel Nutkins 
Tom Kitten Benjamin Bunny Jeremy Fisher
Flopsy Bunny Tailor Of Gloucester Mrs Tittlemouse
A professionally made Coloured Decal / Transfered to the coin
These coins are in brilliant condition, as such they are coins that show no wear at all, other than bag marks or minor mass production scratches, and look as they did when they left the mint with all finer details intact and with full lustre present. Upon ordering, each coin will be taken from one of the sealed bags supplied by the Royal Mint to post offices, And banks.  
I only use my own pictures in all my sales, so if you do need additional images or clarification just ask.
If you wish to purchase multiple units, require international postage or wish to collect, again please don't hesitate to ask.
Returns Accepted Buyer Pays Postage !
ALL SENT OUT NEXT DAY IN BUBBLE WRAP ENVELOPE 2ND CLASS / SIGNED FOR
THANKS FOR LOOKING.