CLOCK CLEANING CONCENTRATE NO 1 (250MLS )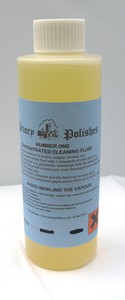 ---
NO 1 CONCENTRATED BRASS/COPPERCLOCK MOVEMENTS. CLEANING FLUID.
250 MLSNo shipping to Channel Isles.
AMMONIATED CLOCK CLEANING CONCENTRATE.
FOR CLEANING CLOCK MOVEMENTS/ BRASS, COPPER, BRONZE ETC.
Our non-flammable alternative to the more expensive Horolenewith as good and we believe, better results.Will remove grease, oil, dirt and tarnish from brass,copper & clock movements.
MIX 1 MEASURE OF THE FLUID WITH 7 MEASURES OF COLD WATER IN A SUITABLE CONTAINER, eg POLYTHENE.
SUBMERGE FULLY THE ITEMS BEING CLEANED UNTIL ALL TARNISH IS REMOVED, RINSE THOROUGHLY WITH WATER THEN POLISH IN THE USUAL WAY.
Can Be Used In Ultrasonic Cleaners atManufacturers recommended Dilution 8:1Does NOT contain Xylene.
MSDS available to buyers only, on request.
THE FLUID CAN BE USED OVER AND OVER AGAIN.STORE IN AN AIRTIGHT CONTAINER.
TRIED AND TESTED OVER MANY YEARS, SEE OUR FEEDBACK.MANY REPEAT CUSTOMERS ON THIS PRODUCT.
Also available in 1Litre  and 500ml Why not visit our shop for other listings and special free offers.
Please note: multiple purchases of this item may be sent separately or by courier according to package weight.
CONTAINER MAY DIFFER FROM ABOVE PICTURE.AS WITH ALL CHEMICALS ALWAYS USE PROTECTIVE CLOTHING