Fifty Pence 50p Collectors Guide 2018, Kew, Vikings, Christmas, TTs, Prices V2.3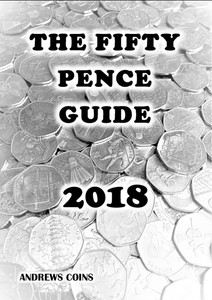 ---
In stock for instant dispatch
Welcome to the brand new 2018 fifty pence coin guide! VERSION 2.3, this updated 2018 version has a section in the back listing coins that are due to be released in the coming months!
2019 edition will be available in the summer
Just 2.99 plus post
All images including the snowman release!
The new update guide is the second edition and includes brand new coin designs and a complete update of all selling values! The book contains 36 pages of high resolution scans of each design, estimated value and mintage if known!
The guide covers everything including all the United Kingdom editions, from the old large design through to the Kew Gardens and new potter coins! Also included are the rarer territory versions, covering everything from vikings, Christmas, TT and even how to spot a fake!
Covering every 50p seven sided coin design ever made, up to the time of print!
High quality print and 135gsm pages and 250gsm cover. A5 size. These booklets are not home made on a printer unlike other guides available.
Please allow 5 days for dispatch, please message me for large orders for dealers!
large order discounts available for businesses and book shops
Any questions please do ask :)
The most comprehensive guide available for the 50p coin!