Flopsy Bunny - Beatrix Potter 50p Fifty Pence coin 2018 - Uncirculated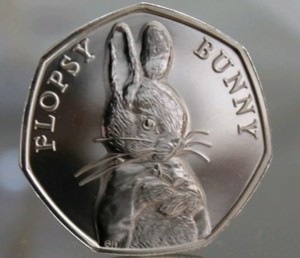 ---
1 x Flopsy Bunny - Beatrix Potter 50p Fifty Pence coin 2018 - Free Postage, new and uncirculated from a sealed bag of 20 coins.

I also have the Squirrel Nutkin, Tale of Peter Rabbit, Peter Rabbit, 150th Anniversary & Mrs Tiggy Winkle 50p coins for sale on a separate auction.
Thanks for looking, please check out my other coins.

Your coin will be from a sealed bag of 20 uncirculated 50p's. They have been through a coin counting machine before being bagged and may show small signs of wear from moving against the others in the bag. If you are looking for a mint condition coin, these are available directly from The Royal Mint starting at £10 each.