SNOWMAN 2018 COLOURED 50p COLLECTABLE COIN ROYAL MINT 40TH ANNIVERSARY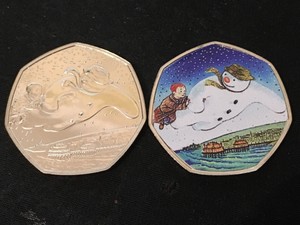 ---
2018 SNOWMAN AND JAMES 50p COIN
Decal  Added To Enhance Characters
Penguin Ventures has once again teamed up with The Royal Mint.
This time for the launch of The Snowman coins to commemorate the 40th anniversary of the classic.
The 50p piece will show The Snowman and James in the iconic flying scene.
This coin is certainly due to be a must have for any Snowman Fan with kids or grandchildren alike.
The coin will come in brilliant uncirculated condition.
This is not the silver proof version.
Thanks for looking.